Dog Training
Dog Behavior Training, AKC Testing and more

Testing Cost: $35.00
Testing may be done as a private evaluation with one of our certified evaluators which are scheduled based on the evaluators availibility and yours.
We also offer some group testing options several times a year. Space in the group testing is limited.
Upcoming Group Testing Dates
None at this time!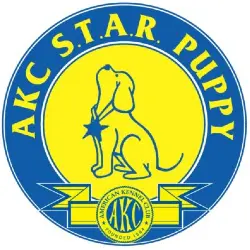 The AKC S.T.A.R. Puppy program focuses on all the things every puppy and owner need to have a great start together. STAR stands for Socialization, Training, Activity and a Responsible owner and in six weeks of STAR puppy classes, puppies and dogs learn the following behaviors and skills:

 OWNER BEHAVIORS:

1. Maintains puppy's health (vaccines, exams, appears healthy)
2. Owner receives Responsible Dog Owner's Pledge
3. Owner describes adequate daily play and exercise plan
4. Owner and puppy attend at least 6 classes by an AKC Approved CGC Evaluator
5. Owner brings bags to classes for cleaning up after puppy
6. Owner has obtained some form of ID for puppy-collar tag, etc.

PUPPY BEHAVIORS:
7. Free of aggression toward people during at least 6 weeks of class
8. Free of aggression toward other puppies in class
9. Tolerates collar or body harness of owner's choice
10. Owner can hug or hold puppy (depending on size)
11. Puppy allows owner to take away a treat or toy

PRE-CANINE GOOD CITIZEN® TEST BEHAVIORS:
12. Allows (in any position) petting by a person other than the owner
13. Grooming-Allows owner handling and brief exam (ears, feet)
14. Walks on a Leash-Follows owner on lead in a straight line (15 steps)
15. Walks by other people-Walks on leash past other people 5-ft away
16. Sits on command-Owner may use a food lure17. Down on command-Owner may use a food lure
18. Comes to owner from 5-ft when name is called
19. Reaction to Distractions-distractions are presented 15-ft away
20. Stay on leash with another person (owner walks 10 steps and returns)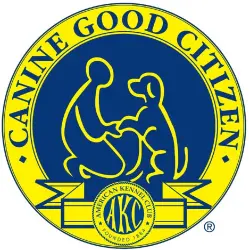 The AKC Canine Good Citizen™ (CGC) program provides a perfect framework for training your dog to become a polite member of society.

 

Test Items:

1: Accepting a friendly stranger
2: Sitting politely for petting
3: Appearance and grooming
4: Out for a walk (walking on a loose lead)
5: Walking through a crowd
6: Sit and down on command and staying in place
7: Coming when called
8: Reaction to another dog
9: Reaction to distraction
10: Supervised separation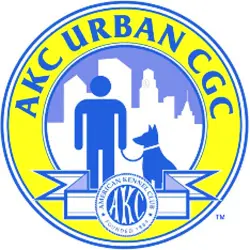 AKC Urban CGC requires that the dog demonstrate CGC skills and beyond in an urban setting. As with Canine Good Citizen, AKC Urban CGC has a 10-step test of skills that dogs must pass to earn the official AKC Urban CGC title. This is a title that appears on the dog's title record at AKC.

Test Items:

1. Exit/enter doorway with no pulling in dog-friendly buildings.
2. Walk through a crowd on a busy urban sidewalk.
3. Appropriate reaction to city distractions.
4. Crossing the street: Stop at corner, stand or sit to wait and cross with no pulling.
5. Ignore food on sidewalk. (Dropped food, or cups, bags, cans, in which food was wrapped).
6. Person walks up and pets the dog. May be carrying a bag that they don't put down.
7. Public Building: Walks under control in building & down stays (3 min) in lobby or outdoor area.
8. Stairs, steps, or elevator under control.
9. Housetrained for apartment, condo, city living. Owner may verify this item.
10. Transportation. Owner's choice depending on transportation needs.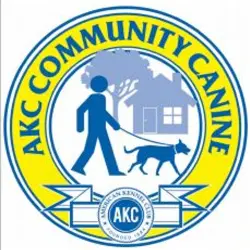 AKC Community Canine℠ is the advanced level of the AKC's Canine Good Citizen Program. Dogs who pass the AKC Community Canine test earn the official AKC Community Canine title that is designated by the letters "CGCA" (Advanced CGC) on the dog's title record.

Test Items:

1. Dog stands, sits or lies down and waits under control while the owner:
2. Walks on a loose leash in a natural situation (not in a ring) — does not pull.
3. Walks on loose leash through a crowd:
4. Dog walks past distraction dogs present; does not pull.
*This item may be tested along with #3 if there are dogs in the crowd, etc.
5. Sit-stay in small group (two other people with dogs, total of 3 people, 3 dogs in group).
6. Dog allows person who is carrying something (backpack, computer bag, etc.) to approach and pet it when the bag is set down.
7. Dog walks by food and leaves it alone.
8. Down or sit stay while owner retrieves an item from 20 feet away.
9. Recall with distractions present from 20 feet.
10. Dog will sit or stand stay while owner enters/exits a doorway or narrow passageway. Owner calls dog through door when ready.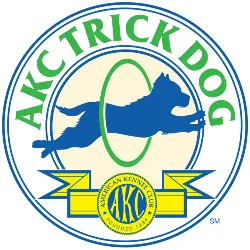 Do you and your dog love to be the life of the party by showing off his arsenal of tricks? Then he might be perfectly primed to earn AKC Trick Dog titles!

There are five AKC Trick Titles you and your dog can earn:

AKC Novice Trick Dog (TKN)– Your dog performs 10 skills from the Novice list. If a dog has a Canine Good Citizen (CGC) certificate or title on record at AKC, it can do 5 Novice tricks (CGC + 5) to earn the Novice title.

AKC Intermediate Trick Dog (TKI) – Your dog must have the Novice title, plus perform 10 Intermediate tricks. See the list of tricks here.

AKC Advanced Trick Dog (TKA) – Your dog must have the Intermediate title, plus perform 10 tricks from the Advanced list.

AKC Trick Dog Performer (TKP) – In this title, handlers perform a short routine with at least 10 tricks with at least 3 tricks using props.

 AKC Trick Dog Elite Performer (TKE) – In the highest level of Trick Dog, the Elite Performers perform a routine that has a story/script. At least 5 props are used.