Daycamp
Daytime boarding and group play
Reasons a dog may not pass evaluation
At Dawgs in Motion we are always putting the safety and happiness of all of our guests first. With this in mind there are some cases where we may decline a dog for our daycamp group play. Listed below are a few of the more common reasons a dog may not be a good fit for the pack play option.
Aggression: This is an obvious one. Dogs that show aggression towards the staff or other dogs are not a good fit for group play. If the aggression is being demonstrated due to fear we would be willing to work with the dog through training playdates to help acclimate and socialize your pup and help them become more comfortable. Dogs that show aggression out of dominance or reasons other than fear or lack of confidence would be referred to our in-home trainer.
Lack of Obedience: Dogs that participate in group play need to know the basics – Name, Come, Sit, and Leave-It. This helps our teams to manage the groups and the dog's behavior and help to guide them on proper play styles and movement through the building and play areas safely. We do make exceptions for puppies that are still learning and dogs that are enrolled in classes.
Excessive Mounting: Dogs mount sometimes to initiate play, rank themselves in the pack, and to relieve stress. While mounting once in a while in the group is a natural and normal thing (even for females or altered dogs), it can become a problem when it becomes excessive. It can upset the other dogs leading to potential altercations and is a sign that your dog is stressed and anxious. If your dog would mount excessively we would not be able to allow them in the daycamp setting. 
Face-barking: Just like with mounting, this is often a way for dogs to initiate play and communicate with one another but when it becomes excessive and your dog does not listen to corrections from staff and their other companions, it can lead to other dogs becoming stressed and uncomfortable which in turn can cause altercations.
Muzzle Punching: Just like someone punching you in the shoulder or jabbing at you, this behavior, when repetitive or harsh can cause companions to become annoyed, sore, and unhappy with the behavior. Dogs that muzzle punch will also often nip at their targets causing their companion to become scared, sore, or upset.  
What if my dog doesn't pass for daycamp?
If your dog is not a good fit for daycamp you have several options (depending on why they aren't a good fit) including on and off-site training and one-on-one playdates. Playdates are a limited service and must be pre-scheduled in order to attend.
Individual Playdates
Dogs that are good with the staff but not in the group play can sign up for playdates. These are special customized one-on-one play sessions with your dog. Dogs that are present for a full day will get a special one-on-one customized playtime with the staff for 35 minutes in the AM, potty breaks, and another 35 minute session in the PM. Dogs present for a half day receive potty breaks and one 35 minute play session. We encourage you to bring treats for your playdate dog to use in our special puzzle enrichment toys that help stimulate your dogs brain! These treats should be labeled "PUZZLE TOYS" so that they are not given for lunch!
Training Playdates
Dogs that don't pass due to behaviors such as fearfulness, rough play, or lack of obedience can work with our on-staff trainers by signing up for training playdates. These dogs are scheduled based on the availability of the training team. They can come for half or full days. Dogs that are present for a full day will get a special one-on-one customized playtime with the staff for 35 minutes, in addition to potty breaks, and a 30 minute private lesson with one of our certified trainers to help correct the problematic behavior. Usually a minimum of three lessons is recommended; packages for training sessions are available. Dogs in attendance for a half day (6 hours or less) will have potty breaks and a 30 minute private lesson with the trainer. All training sessions include a training report, recommendations, and training exercises to take home.
Dogs that participate in camp training must have the "On-Site Training agreement" on file. They must also provide treats and rewards for their dog the day of their lesson for the trainer. These treats must be labeled "TRAINING" so they are not given for lunch.
Dogs displaying aggression will be taken on a limited, case-by-case basis. If a dog is displaying offensive aggression towards other dogs, they will not be eligible for training with other dogs for safety reasons. Dogs that put staff safety at risk will not be eligible for training sessions at Dawgs in Motion and must have off-site training with one of our in-home trainers.
Daycamp Pricing
 Full Day of Daycamp (6 hours or more at the facility) is $38.00 +tax
Half Day of Daycamp (Less than 6 hours at the facility) is $29.00 +tax
Full Day Playdate (6 hours or more at the facility) is $38.00 +tax
Half Day Playdate (Less than 6 hours at the facility) is $29.00 +tax
Full Day Training Playdate (6 hours or more at the facility with a play session and 30 minute training session) is $52.00
Half Day Training Playdate (Less than 6 hours with a 30 minute training session) is $40.00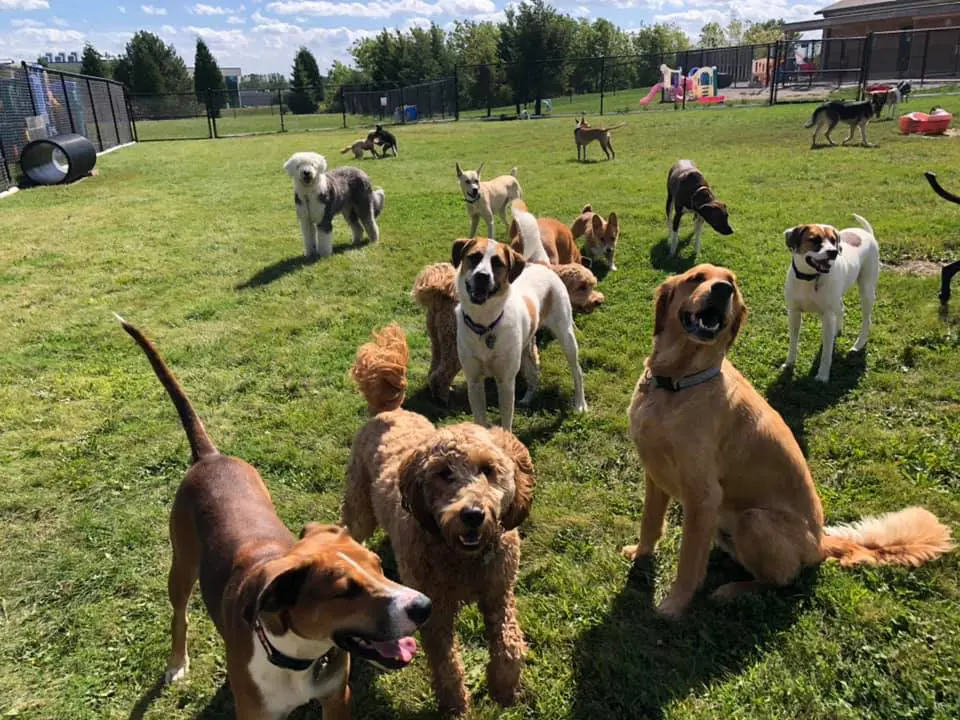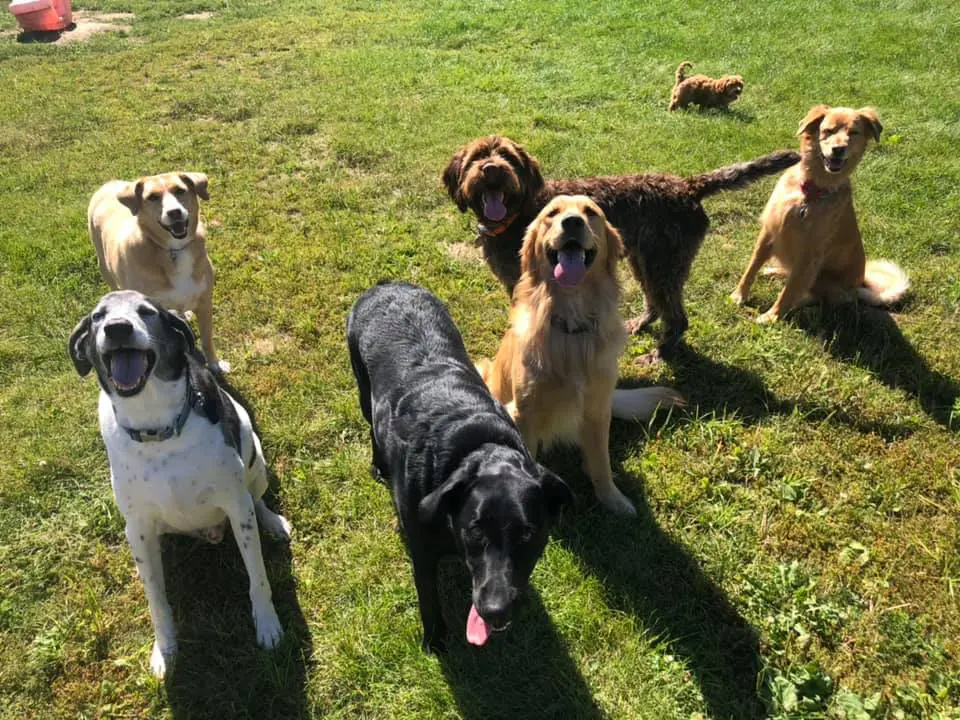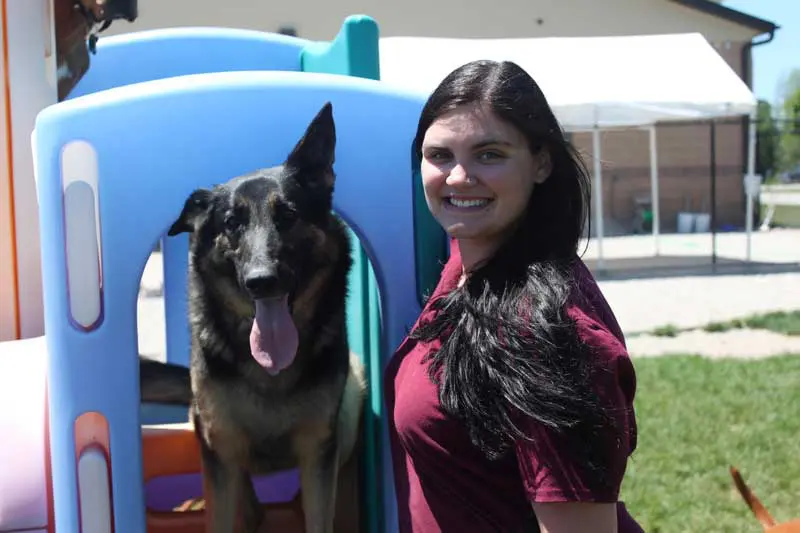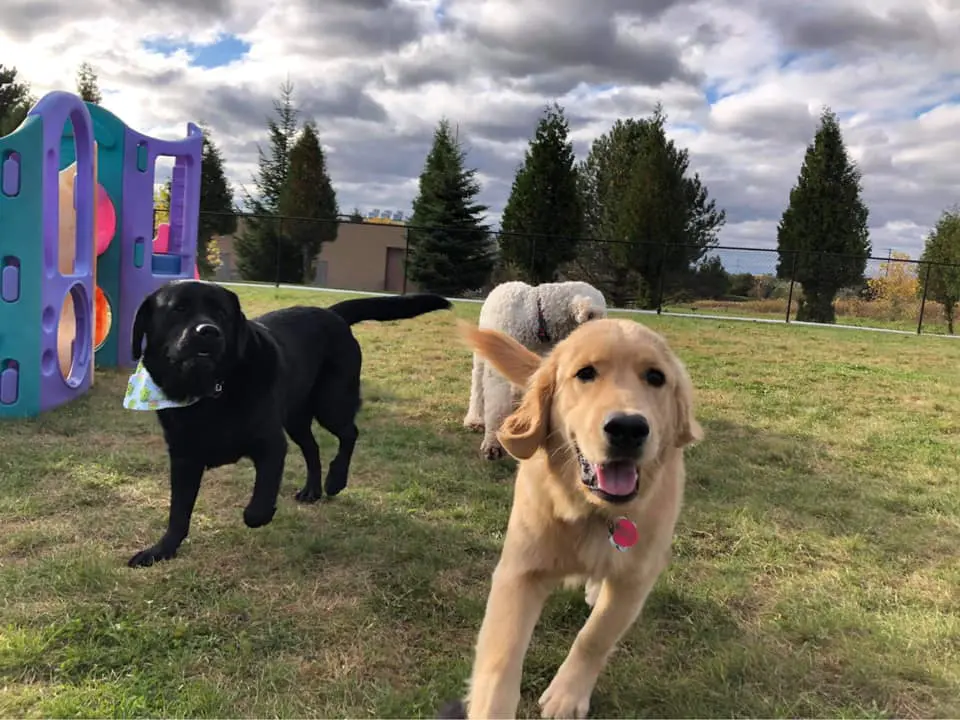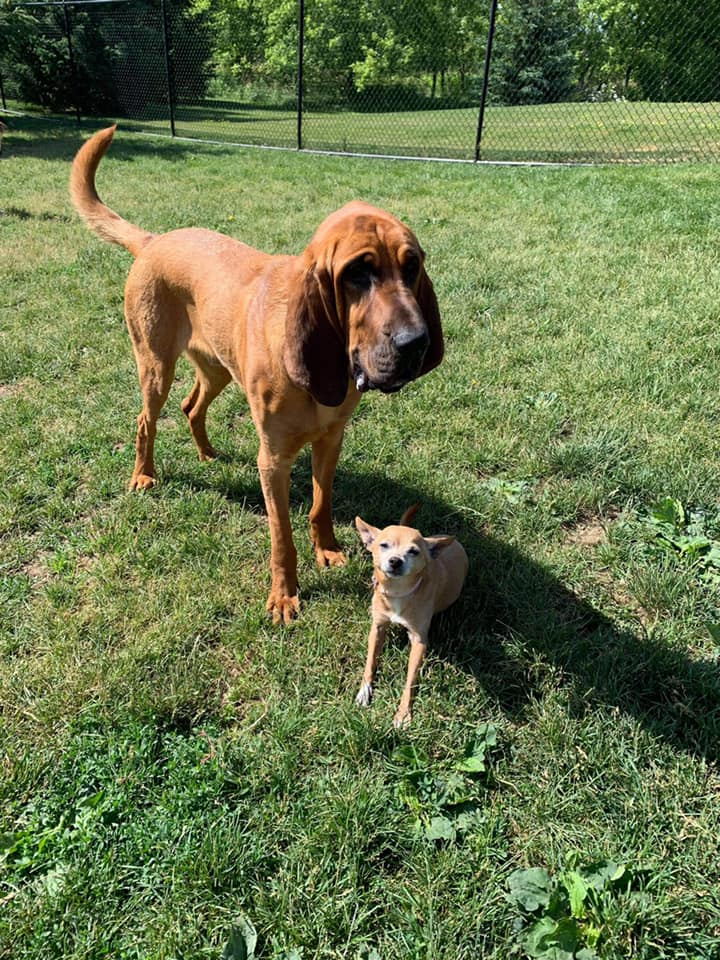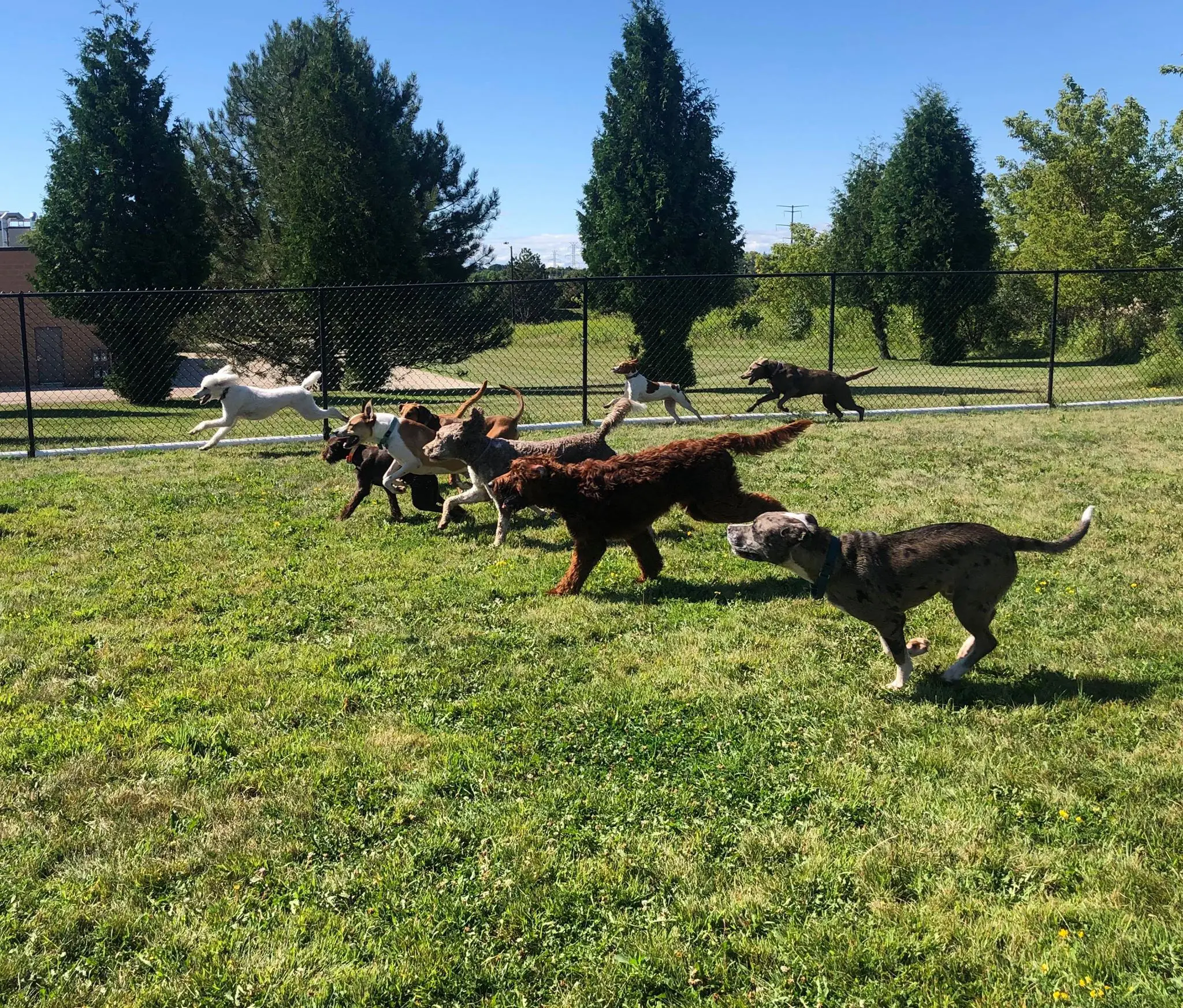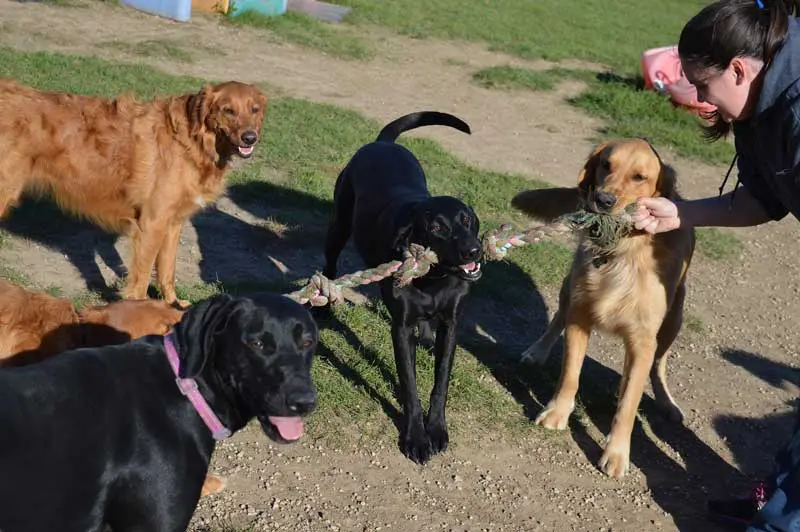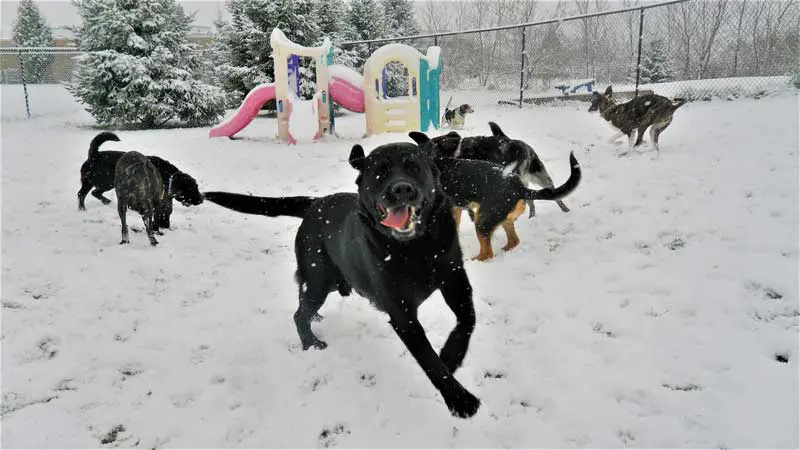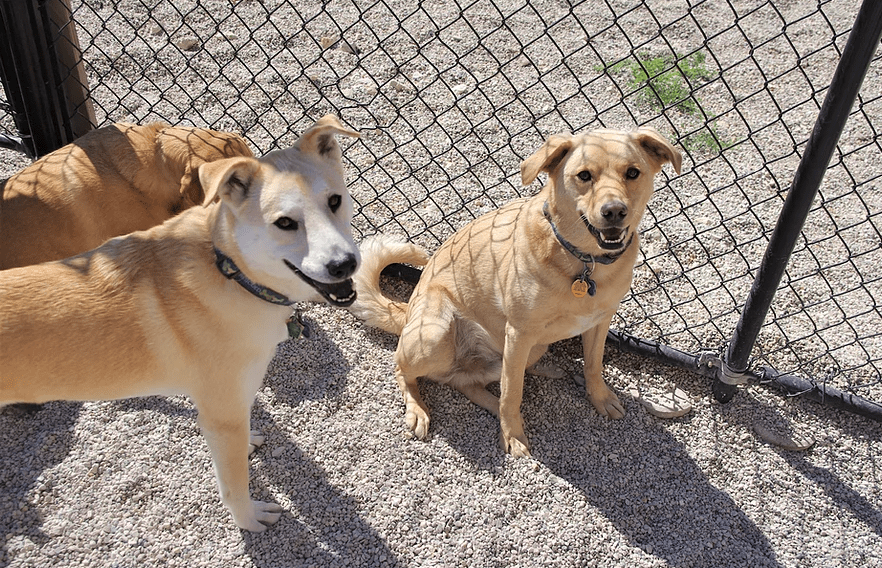 I have a very small dog..9 lbs..and had trouble finding a place where she could actually play with other dogs. My girl gets so excited for doggy daycare and she's pooped all night! The staff is friendly and my dog shows no fear going there!!
Both of my boys, Dinger and Mason, have attended doggy daycare once a week since we got them and they were about 4-6 months old… still love going on a weekly basis. The staff is always very friendly, helpful and accommodating. I trust all of them with my "babies". They definitely get some extensive play time during the day because they are always passed out on the ride home and for a while after we arrive home. If you are looking for a place to send your dogs for a day or overnight, Dawgs in Motion is the place to do it! You will not be disappointed in this decision."
We love DIM, our dog has been going to DIM for over 5 years. It's his home away from home. He loves going to daycare to see all his furry and human friends. I never have to worry when we leave him for night camp, as we know he will be well taken care of.