Concordia Comfort Dog Ministry Program
Dawgs in Motion would like to welcome "Grace"! Grace is a Labradoodle puppy that Dawgs in Motion purchased from Labradoodle Corral to train as a Therapy Dog for Concordia University. Grace will live with our Lead Trainer, Mandie, and her family for the first month that we have her and then once she graduates from her 1 month intense in-home board and train she will make the transition to her puppy raiser home with our raiser Linda! Once every other month she will spend 3-7 days with Mandie again for additional advanced board and train. Grace will work with our team every day to learn how to be a fun loving, playful, and well-mannered pup to help bring love and joy to the community!  💛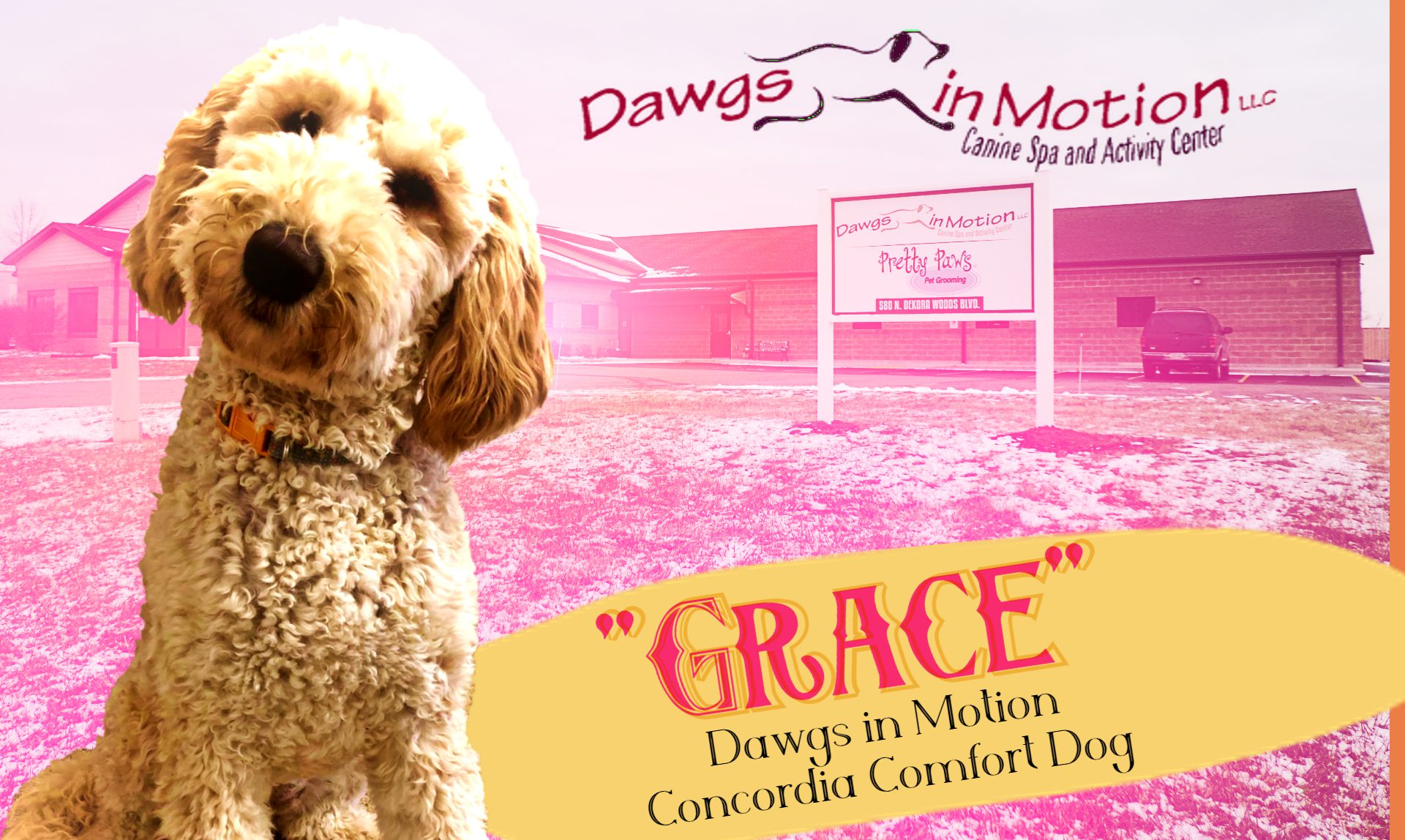 NOVEMBER 18TH
Today our Comfort Dog Ministry and Compassion Care students took their final exam with Dawgs in Motion to earn their Certified Handler certificate. The students took a written exam followed by a practical applied handling exam and had a chance to introduce Grace to the Dawgs in Motion mascot!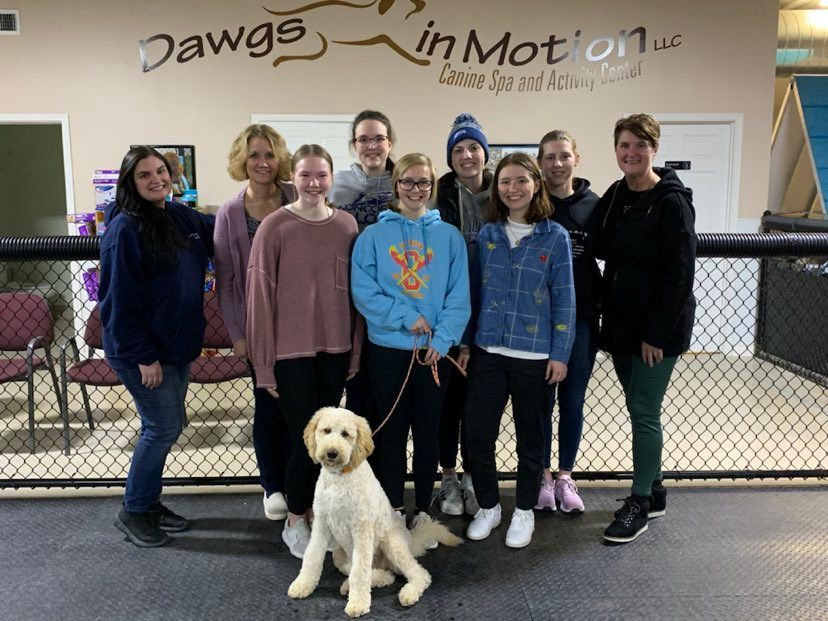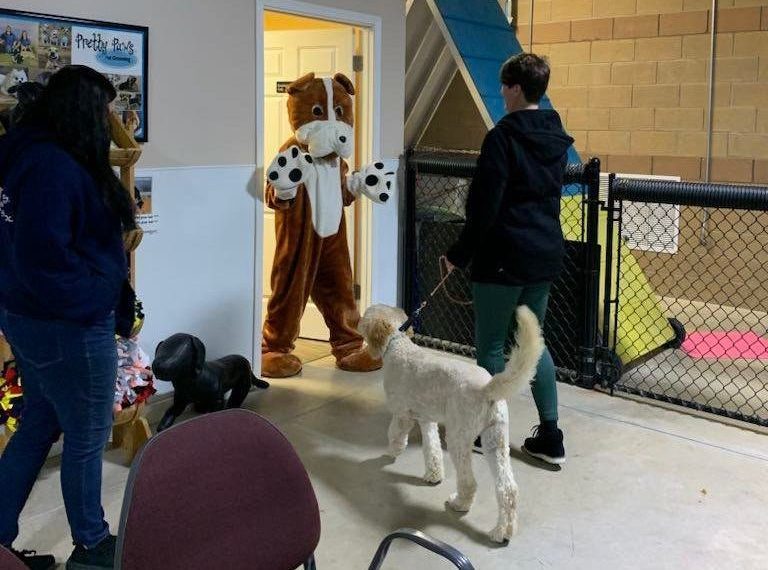 NOVEMBER 11TH:
Another vet visit for a check-up and some more socializing practice! Grace received good marks from the vet both in her health and behavior. She even got some extra practice in with the special tools!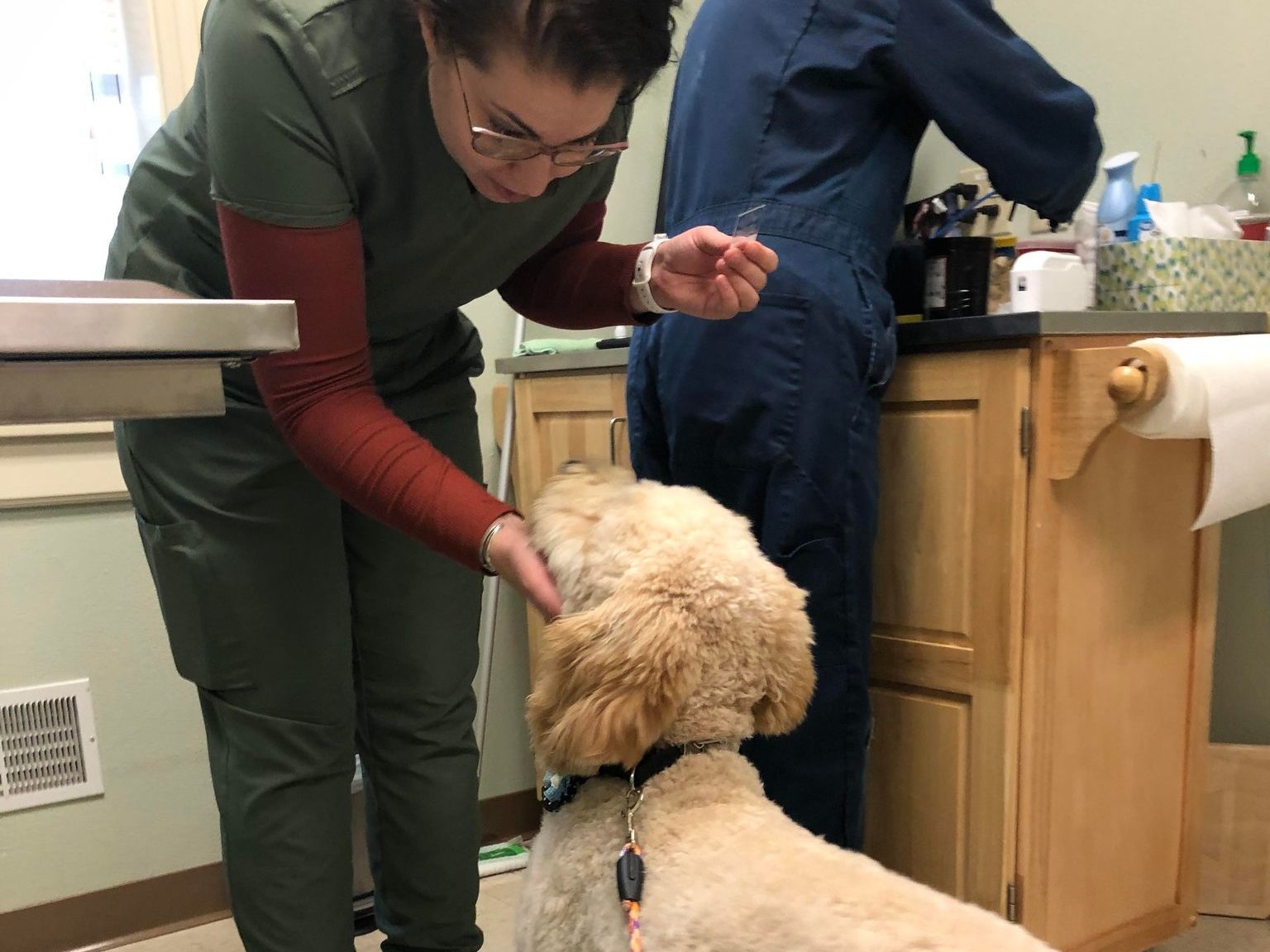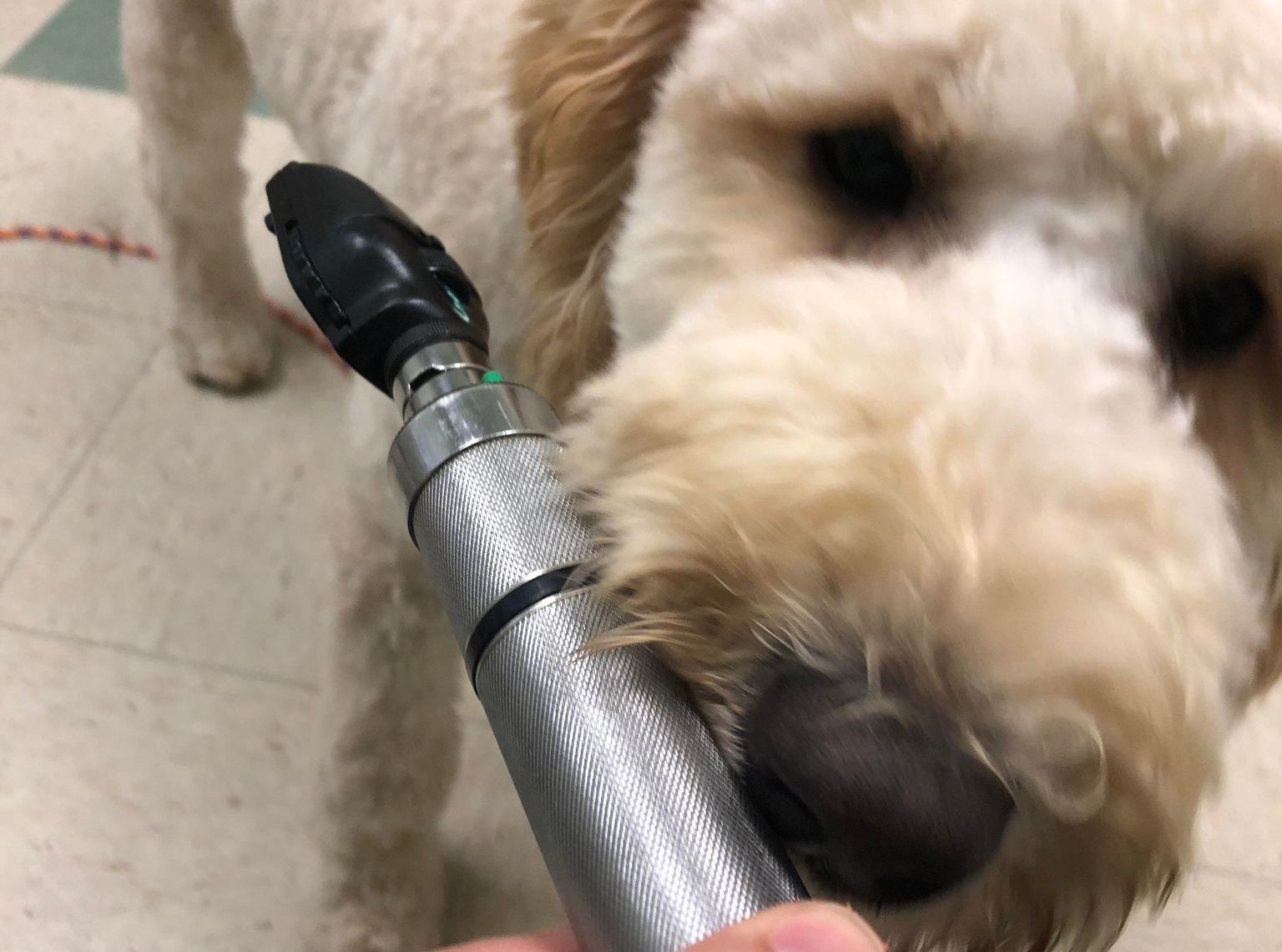 NOVEMBER 7TH:
Today was Grace's first Television debut! She was featured on the news alongside Dawgs in Motion and Concordia University for a feature overviewing the Comfort Dog Ministry and the roll that she and Dawgs in Motion plays in helping train new handlers for the program.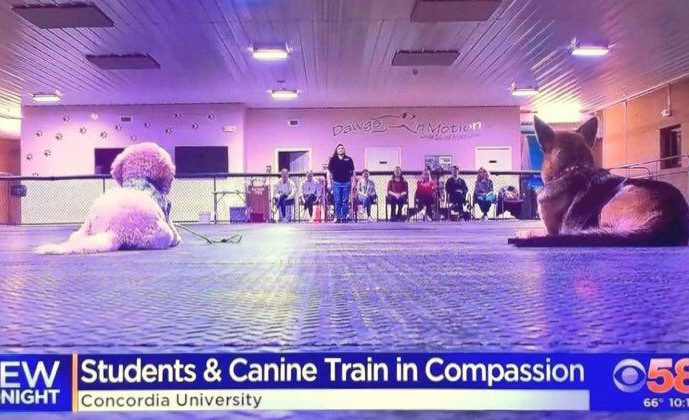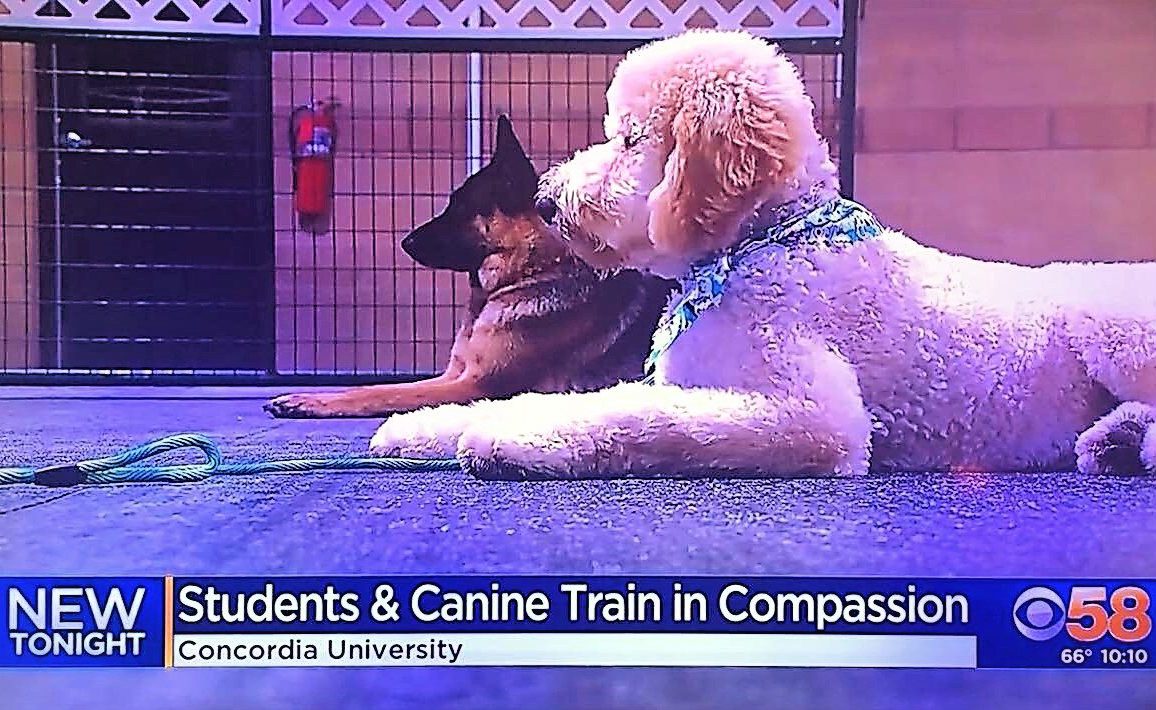 OCTOBER 27TH:
Grace had her first professional photoshoot today! She was such a brave girl and loved posing for the camera with the assistants and the talented Trish from Legacy Studios!
Stay tuned for the final products!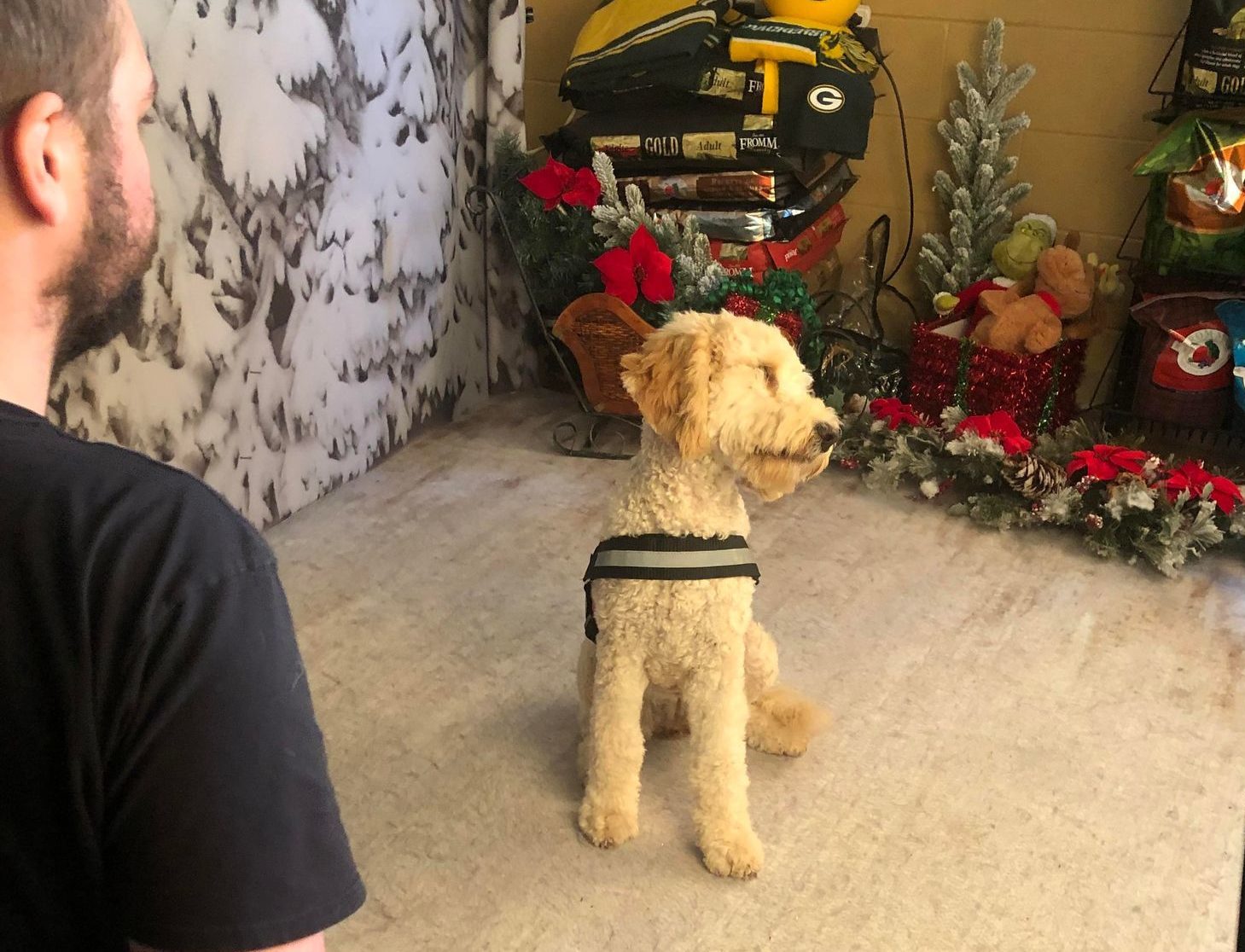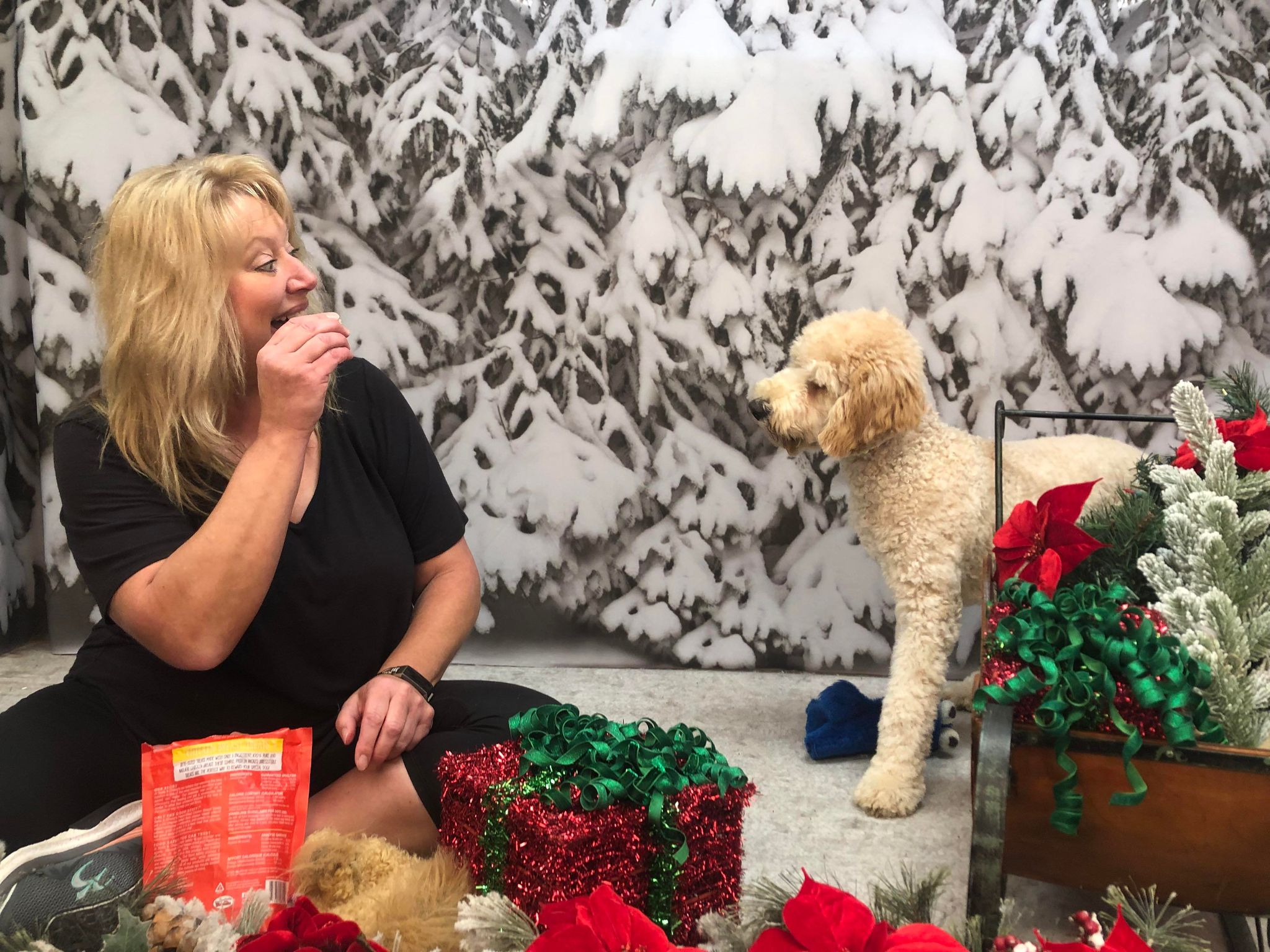 OCTOBER 14TH:
Grace has been continuing to excel in her training and has been assisting in the instruction of the Concordia Confort Dog Ministry program. Dawgs in Motion not only has been training Grace to prepare her for her future in the ministry but also teaches groups of students who are participating in the ministry to certify them as Therapy Dog Handlers.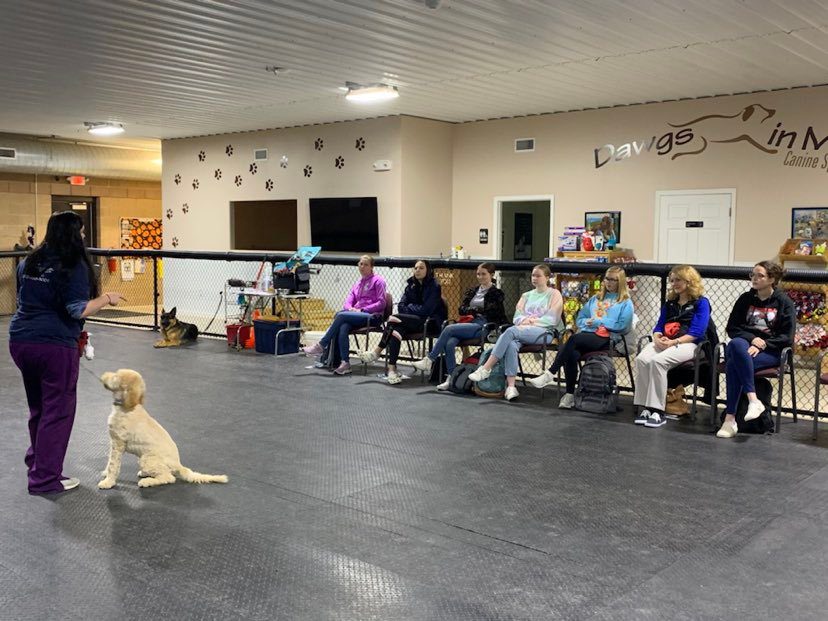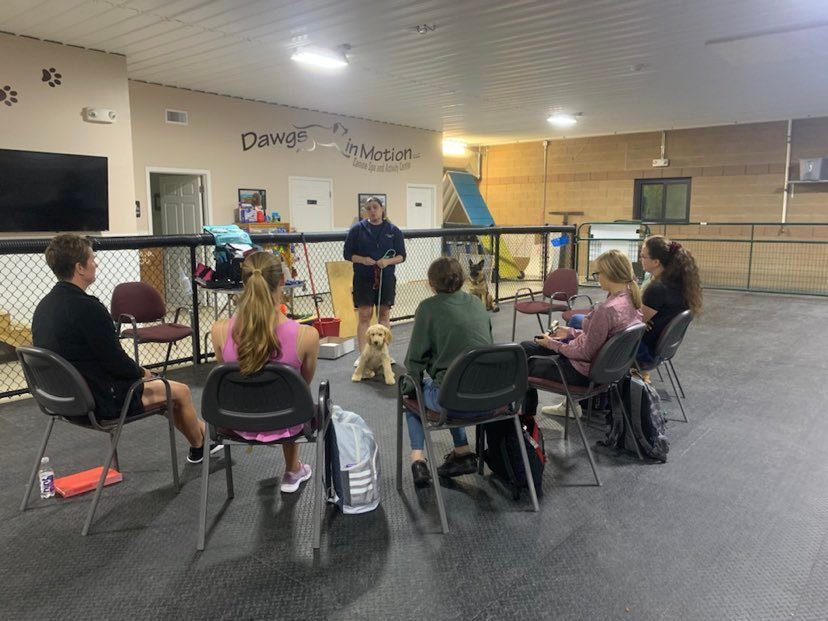 SEPTEMBER 16TH:
Today Grace attended a charity event with her trainer Mandie and puppy raiser Linda. The event that was hosted featured three charities including Concordia's Comfort Dog Ministry. Grace got a chance to do some community outreach, meet lots of people and bring smiles to many faces! She even got to meet the current Concordia Comfort Dog, Zoey!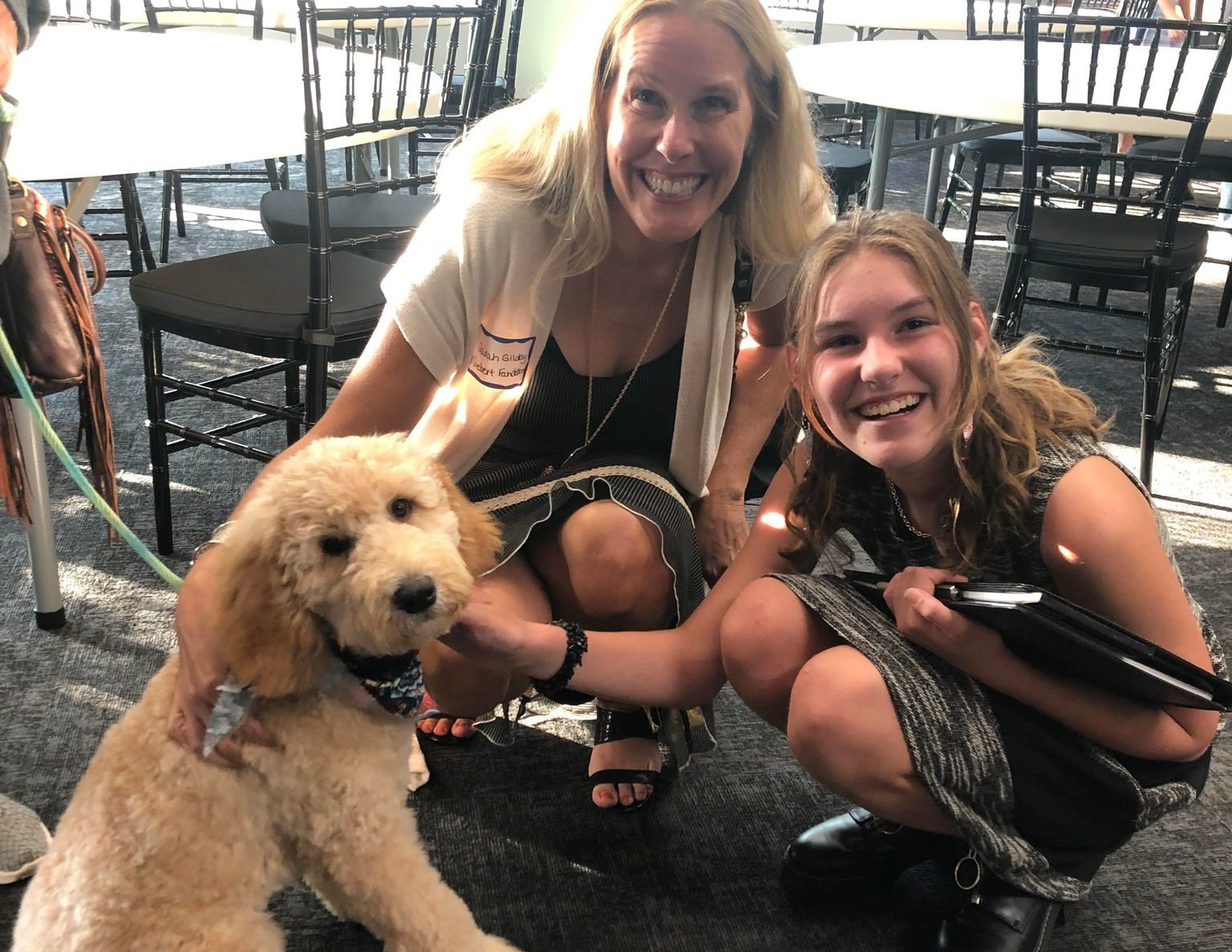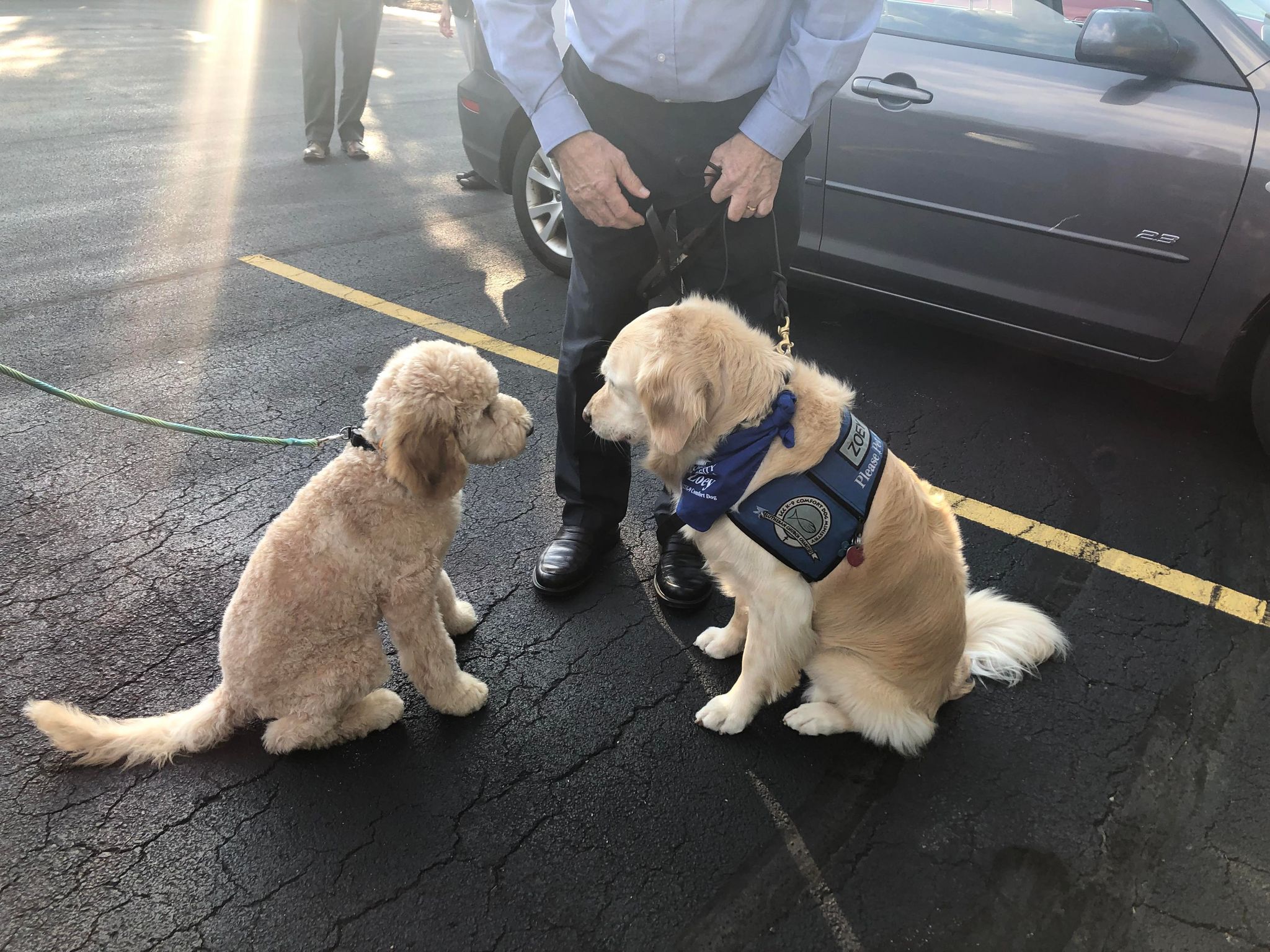 SEPTEMBER 6TH:
Today Grace graduated from her beginner obedience class with her class handler Baily. Grace did a great job with socializing, focusing and is doing great with her basics! It is amazing the difference that six weeks can make! Check out how big she has gotten in this short amount of time! How can you not love that little grin on her face!
What a proud puppy!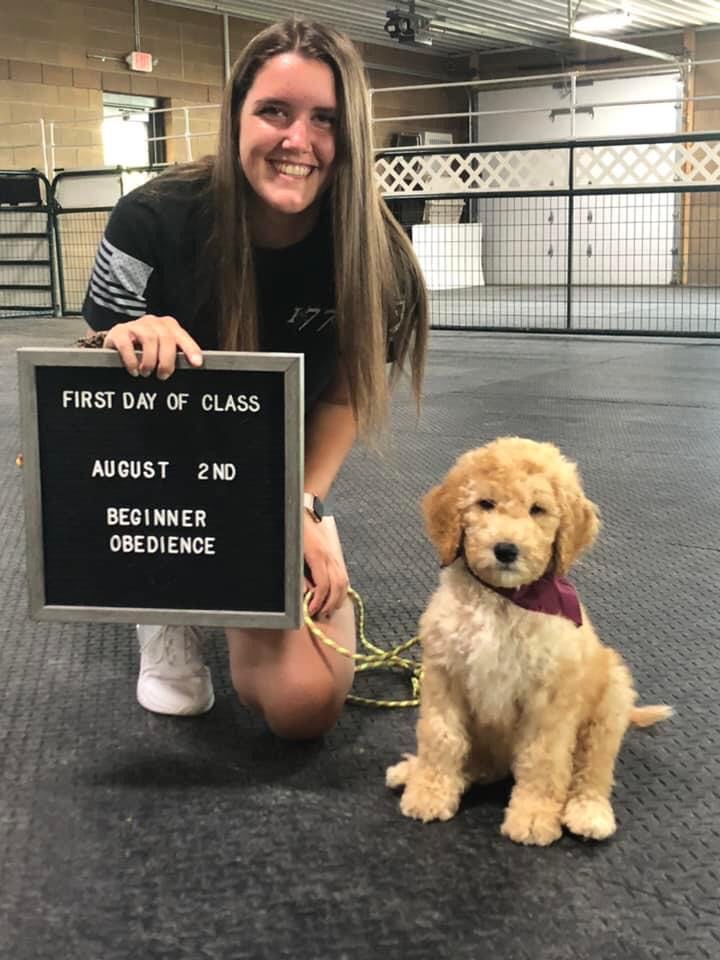 AUGUST 16TH:
Today Grace graduated from her intense in-home board and trainer with our lead Trainer, Mandie. Grace learned the intros to important skills like leave-it, recalls, sit, down, place, and more! She also worked on housebreaking and her initial socialization during the critical socializing period! It will be a busy and exciting time for Grace over the next few days as she begins to make her transition from the board and train home to her puppy raiser home with raiser Linda and her Beagle, Joy!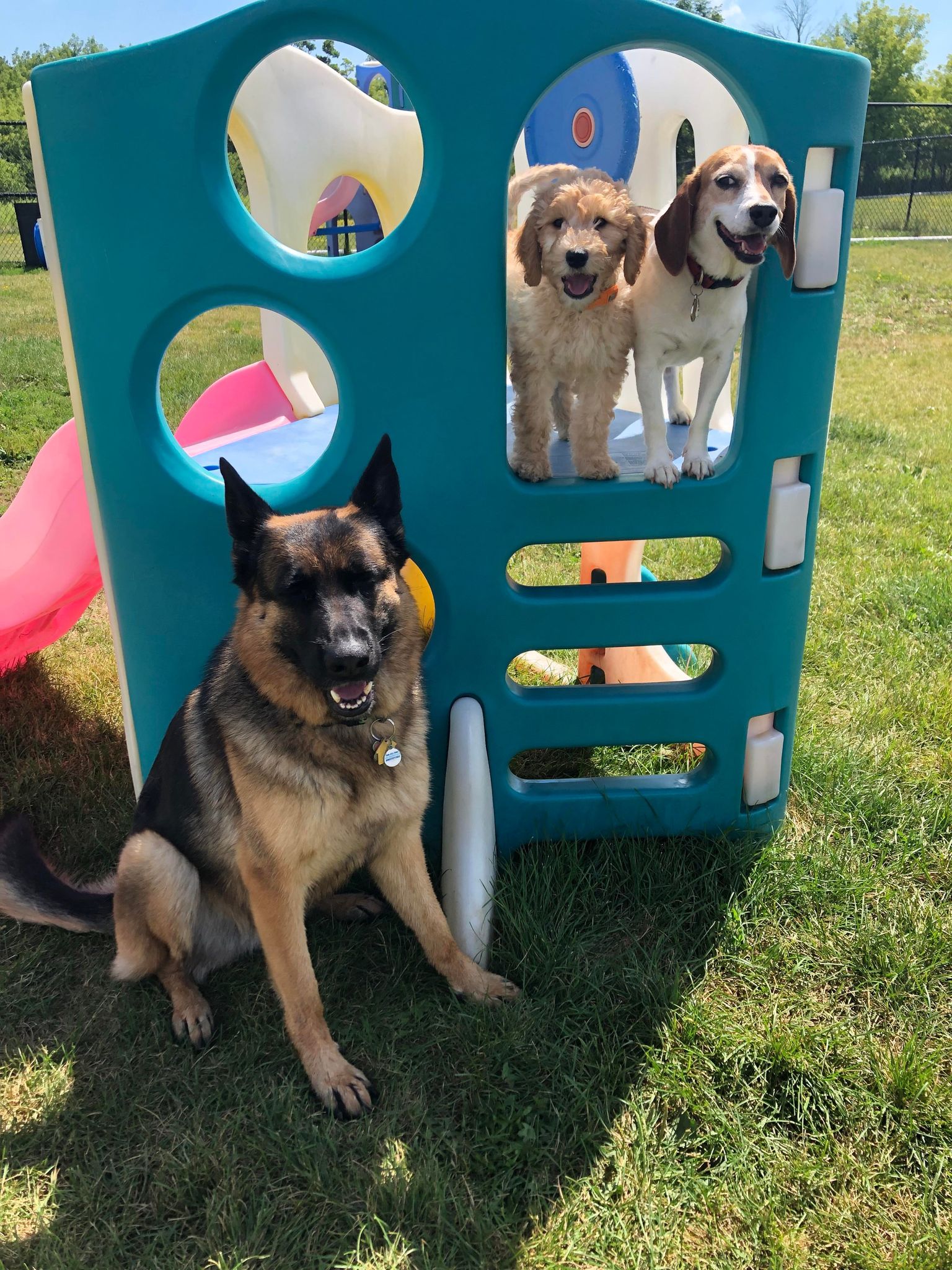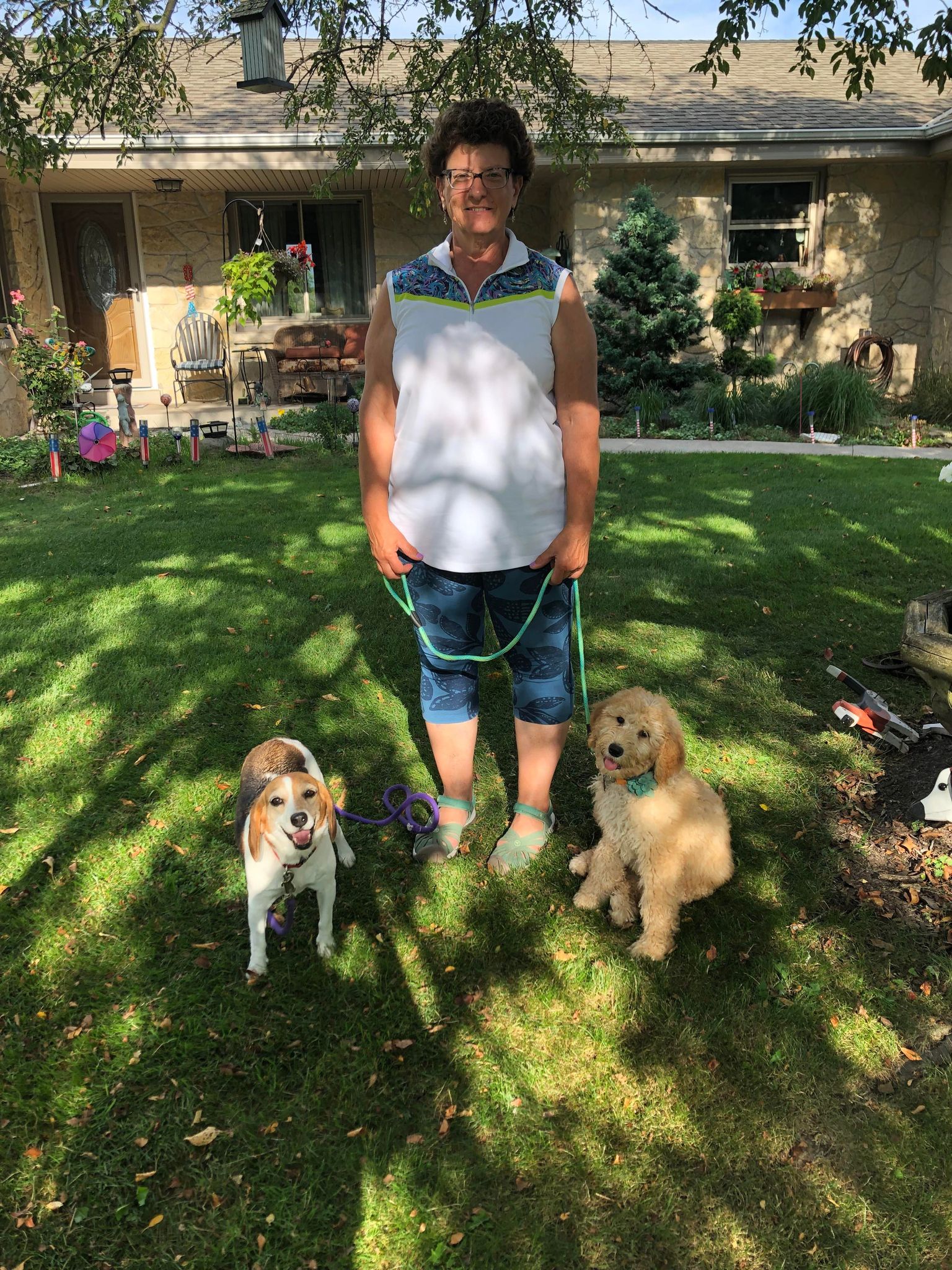 JULY 23RD:
Today Grace passed her STAR puppy test! She is not officially an AKC STAR Puppy! Grace needed to pass several pre canine good citizen tests in order to achieve this title and she did it with flying colors! We can't wait to continue training with her; Next stop… CGC!